Kartonnen hoekprofielen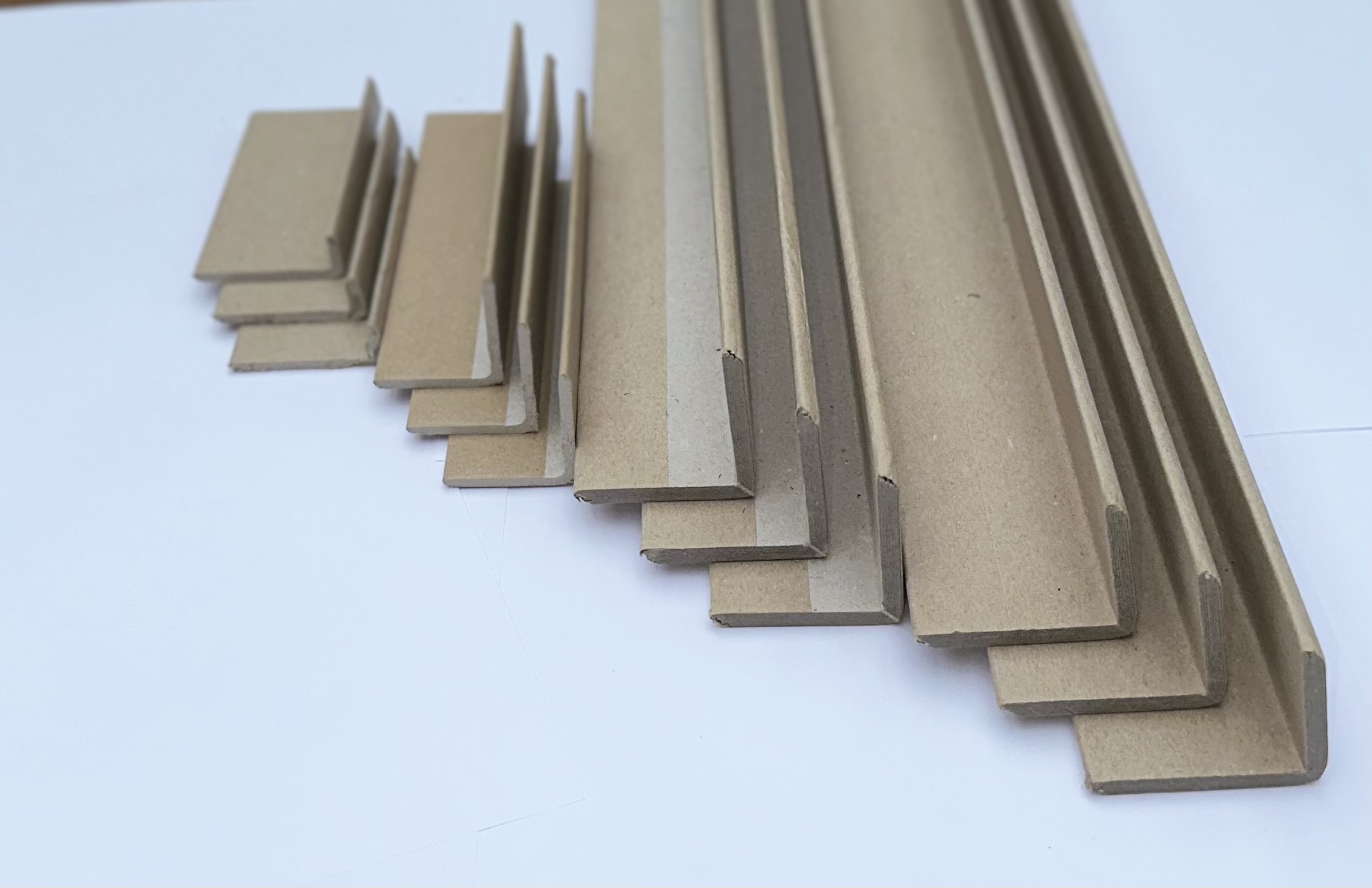 Kartonnen hoekprofielen zijn een onmisbaar en essentieel onderdeel van elk logistiek systeem voor transport en opslag van vracht. Ze zijn ontworpen om de hoeken en randen van je lading te beschermen tegen schokken, krassen en andere soorten schade die tijdens het transport of de opslag kunnen ontstaan.
De kartonnen hoekprofielen van Kartonnage Joye – ook wel hoekbeschermers of hoekranden genoemd – zijn gemaakt van gerecycleerd karton. Ze zijn dus milieuvriendelijk en toch duurzaam genoeg om tegen een stootje te kunnen. Ze zijn ook heel kostenefficiënt omdat ze onnodige kosten vermijden als gevolg van schade.
Heb je een horizontale of verticale bescherming nodig voor jouw pallets of producten? Dan komen onze hoekprofielen goed van pas. Ons dochterbedrijf Kartonnage Joye in Polen levert ze in de snelst mogelijke termijn, met breedte, lengte en dikte volledig afgestemd op jouw eisen.
Kartonnen hoekprofielen beschermen en beveiligen jouw producten
Kartonnen hoekprofielen zijn essentiële hulpmiddelen om de duurzaamheid en veiligheid van je lading tijdens het transport en de opslag te vergroten. Je plaatst ze op de kwetsbare hoeken en randen van je producten om ze extra te beschermen.
Ze helpen de pallets te verstevigen zodat ze beter stapelbaar zijn.
Ze houden de producten op jouw pallets stabieler waardoor de kans op productschade tijdens het transport en de handling afneemt.
Ze versterken de hoeken van je dozen door extra stevigheid te bieden zodat ze intact blijven, zelfs als er veel gewicht op wordt uitgeoefend.
Deze hoekprofielen zijn niet alleen kosteneffectief, ze voegen ook waarde toe door je waardevolle producten te beschermen tegen mogelijke schade.
Of je nu breekbare meubelstukken, delicaat glaswerk of andere breekbare voorwerpen vervoert, onze kartonnen hoekbeschermers houden ze veilig tijdens het transport en de opslag.
Aanpassingsopties
Bij Kartonnage Joye begrijpen we dat jouw behoeften per product kunnen verschillen. Daarom bieden we aangepaste opties aan voor onze kartonnen hoekprofielen. We kunnen de breedte, lengte en dikte van onze producten aanpassen aan jouw specifieke eisen. We kunnen ook scheurhoeken maken door het gebruik van perforaties. Zo kies je zelf de lengte die je nodig hebt. Ook gestanste lipjes behoren tot onze mogelijkheden.
Meer info nodig over onze kartonnen hoekprofielen?